Get the most out of your DJ hardware by creating custom MIDI mappings with the MIDI Learn tool in djay Pro. Using the on-screen mapping controls, you have the possibility to either map a new MIDI controller from scratch or to add and remove specific functions for your current natively supported controller to better fit your unique workflow.
Follow the short tutorial below on how to map the play/pause button to get a feeling for how the djay Pro MIDI Learn feature works. 
Mapping a new device
To start mapping a new MIDI device, follow these steps:
Launch djay Pro and wait for it to be fully loaded.
Plug your MIDI controller into your computer via a spare USB port and turn it on. If this is the first time using the controller, you will see a pop-up message asking if you want to configure the device. Click Yes.

Next, the device MIDI Configuration window will load, displaying the MIDI mapping screen.  
To start mapping your first MIDI signal, use the desired control <Add rotary, eq, pads> for the editor to pick up the correct note or CC to add to the list. Press a button on your controller to add this to the list.
You then need to select both the Target within the software and the Action the control will perform. From the Target drop-down list, choose Deck 1, and from the Action drop-down, choose Play/Pause.
You have now mapped the Deck 1 PLAY button to your controller. Load a track and test it out!
Keep mapping the basic controls until you have everything you need and hit DONE to save the config.
MIDI control targets
Targets are a simple way to break down what controls your MIDI signals are "targeting". These targets are general areas of the user interface to help make it easier to find the right command to map. You can choose from Decks 1 to 4, Mixer, Music library, Sampler, Microphone, or General. You can further drill down into these target sections through the target's Actions drop-down.
Advanced control options
To show the Advanced Control Options, expand the section by clicking the header. These settings are designed to tweak how your MIDI commands respond, should they not work as you want them to.
Control type: Choose from Button, Fader/Knob, Rotary (01h/7Fh), Rotary (3Fh/41h), Rotary (absolute).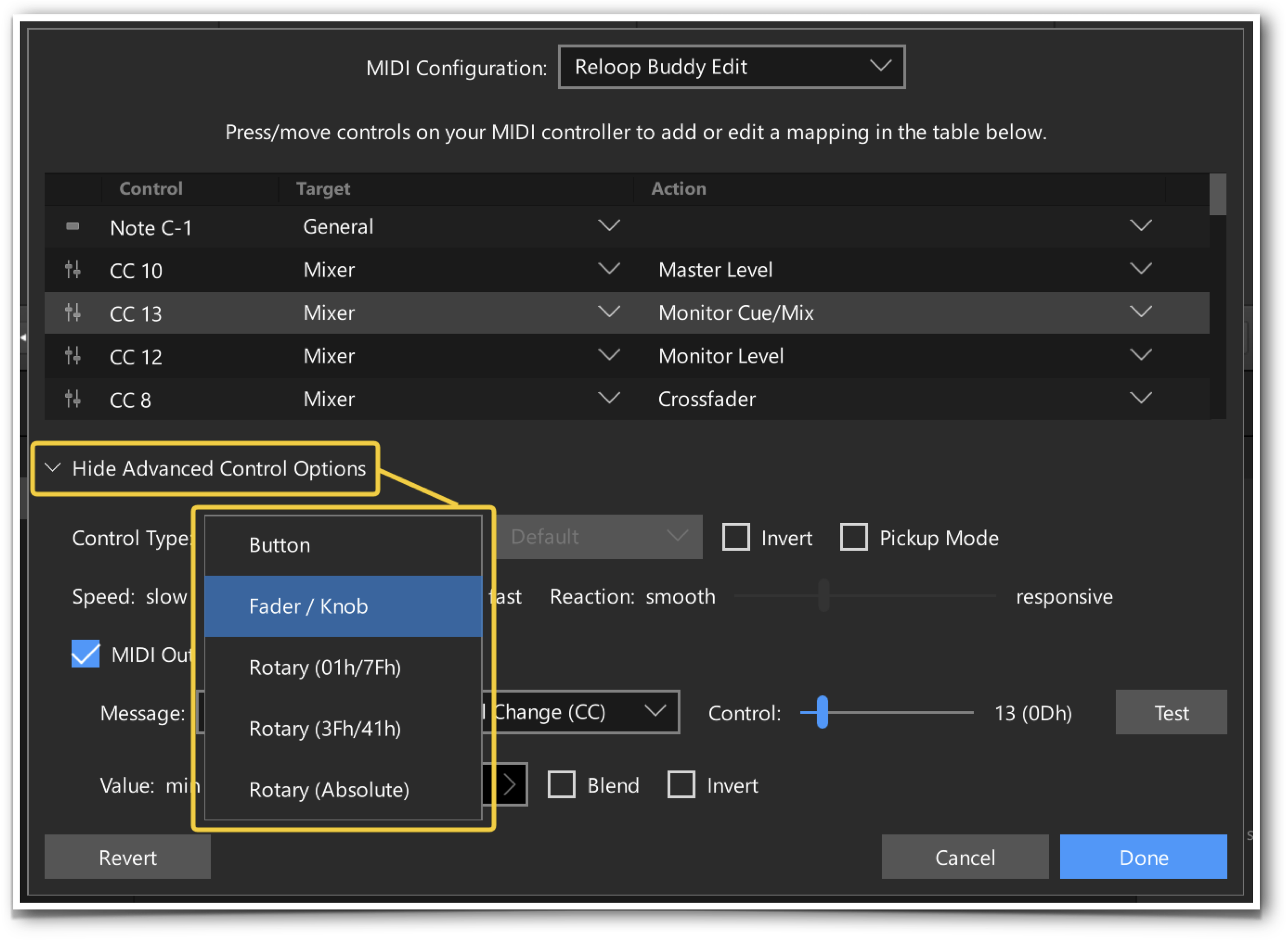 Editing the mapping a existing device