During a live set or recording, you often want to find and prepare the next song while the current one is still playing through the main audio output. This is a common task for DJs known as Pre-Cueing. In djay Pro AI for Mac, you have several options for connecting your headphones for Pre-Cueing.
Using the Aux and USB outputs of your Mac
The built-in audio sound card of your Mac only has one stereo output (3.5mm jack output), which means that it can't be used for both speaker output and Pre-Cueing. However, you can use the built-in audio sound card in combination with any USB audio interface compatible with macOS (i.e., it shows up in the Audio MIDI Setup app on your Mac). If your USB audio interface is not class-compliant, make sure to download and install the necessary driver in order to use it. You may also use USB headsets and external USB or FireWire sound cards. Multi-channel sound cards are fully supported with channel assignment in external mixer mode.
Check out our DJ Gear page for more information about recommended audio interfaces.
Steps for Pre-Cueing using the Aux and USB outputs
Connect your USB audio interface to your Mac.
After djay has detected the device, confirm that you want to use it for Pre-Cueing.

djay will select the turntable audible through your headphones automatically. To change the currently active turntable, you can use the Pre-Cueing headphones icon buttons next to the decks.

To change the Pre-Cueing volume, open the Pre-Cueing panel using the headphones icon button in the upper left corner of djay's main window.

Using a DJ Split Cable
As an alternative, you can also Pre-Cue with the Split Output option enabled in djay's audio Devices settings, using a stereo/mono DJ split cable (like this one).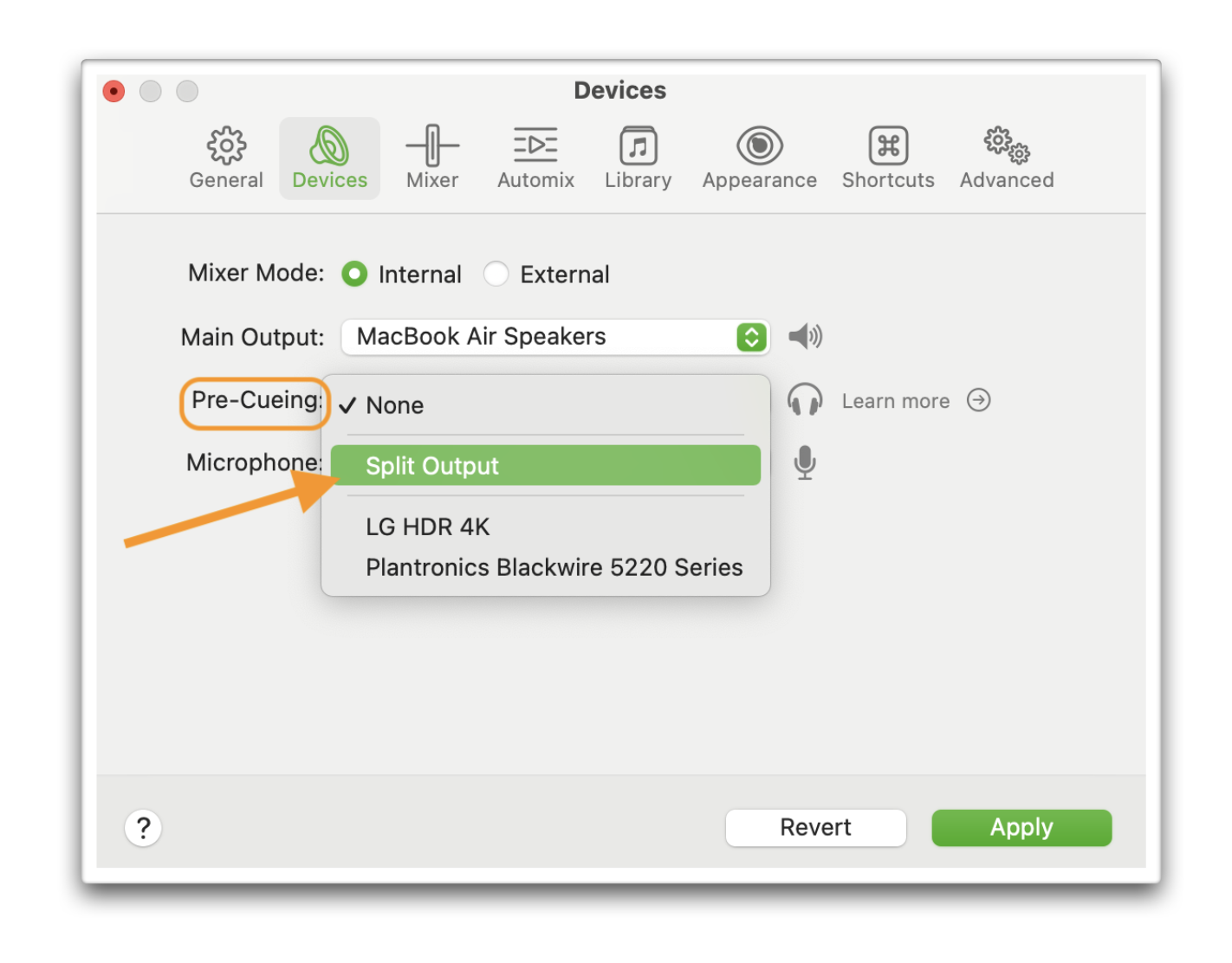 djay Pro AI will send the master output to the left channel and the cue output to the right channel (which is always the opposite turntable to the one audible through the master channel). You will get a binaural signal for master and Pre-Cueing, so you will hear the same sound on both speakers connected to the master channel and in both ears of the headphones connected to the Pre-Cueing channel.
For more details about getting set up, please see our Pre-Cueing page.