djay's Track Match feature can suggest what to play next based on the last track played and which tunes in your collection have a similar genre, BPM, and root musical key. To ensure this feature works with your iTunes collection, all songs that you have stored in iCloud must be downloaded onto your hard disk as there is no way for djay to access songs in iCloud.
To download a single track from iCloud:
Click the cloud icon next to the track in iTunes:

To download all tracks from iCloud:
Select all tracks in iTunes, Ctrl-click (right-click), and choose "Download" from the menu: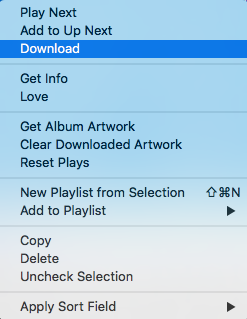 Note: After downloading a song from iCloud, choose "Refresh"(Cmd-Shift-R) in djay's Library menu to show the song in djay.